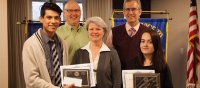 Utah Valley Exchange presented "Accepting the Challenge of Excellence" (ACE) scholarships to two students from our school. The ACE scholarships are presented to students who have made drastic changes in their life and, as a result, have changed their future for the better.
Our teachers gave high praise to the two recognized students, Layla Salazar and Noah Jimenez. One of our history teachers praised Layla's work ethic and said, "she's the kind of student you wish you had 25 of instead of just one. Layla is a great asset to our school and is well deserving of this scholarship. These two students, Layla Salazar and Noah Jimenez, are incredible individuals who have perfectly emulated the purpose of this award." When asked about Noah, his teachers describe him as hard working and respectful, with the intelligence, charisma and aptitude to go far in life saying, "Noah has used these strengths to fight through the challenges he has faced and become the great young man he is today."
As part of the scholarship application, students are required to write short narratives about their challenge of excellence.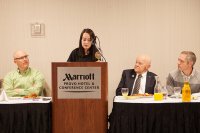 Layla writes, " For a little while during my sophomore year, I didn't take my future seriously, and I thought it was a 'waste of time'. I dropped out for a few terms to start working, and that was honestly the worst decision I have ever made… I am so proud of myself for making the decision to go back to school. I want to better my future by graduating and getting a college degree. This would give me a career, which would benefit my future family and me. Returning to school has increased my self-esteem and my desire to rise above many of the obstacles I've had to overcome in my personal life. I've learned the value of school and I am glad I returned to school and will graduate in May. I will continue to pursue my education."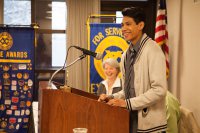 Noah talked about the rough events that he has been through and how he has overcome those hard times and succeeded. "Throughout my life, I have been through hard and difficult challenges. But these challenges have had a huge turn around into what seems to be hard, yet learned lessons. I often like to think of myself being someone who has not only been through a lot, but someone who has also overcome a lot. When people first meet me they say 'Noah you're an amazing kid!' Though I've never really thought of myself that way, it's nice to have someone tell you. My teen years have had the craziest impacts on my life, yet they have made me who I am today. "
Congratulations to these incredible students for receiving these scholarships. We are so proud!